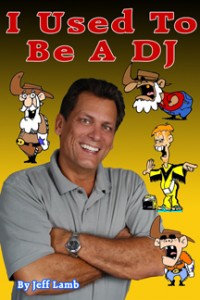 [The Following is an excerpt from Jeff's book, "I Used To Be A DJ" Available NOW!!]
I Loved The Perks Of Radio
There were two people that I wanted to meet more than any other two on earth.  One was Johnny Carson.  I never got the chance to meet him.  The other was Muhammad Ali.  In 1990, for some reason, he was coming to town to do something with one of the hospitals in town.  I HAD to meet him.  I begged loudly enough that the station set it up and got me press credentials for the event.  I took my brother-in-law, Scott, with me.  We sat in this room waiting for Muhammad Ali to arrive.  Then the doors opened and there he was, larger than life!  His Parkinson's was pretty bad but he still moved okay but talked very little.  He pretty much stood there as his spokesman did all the talking.  But it was Muhammad Ali!  After the presentation I went up and spoke briefly with him and asked if he would mind posing for a picture.  He stuck his fist up to my chin and posed.  Scott took the picture and then Scott and I traded places for his picture.  It was awesome!  There was a little boy maybe 10 years old just standing there and staring at Ali.  Ali saw this and started staring back.  Then he grabbed the kid by the collar and said, "Did you call me a nigger?"  The kids eyes got huge and he said, "No sir!"  Ali saw that the kid was scared so he immediately gave him a big hug and a smile and everybody broke up laughing.  Then he did some magic tricks for the kid.  It was a great moment.
The next day, he was still in town and scheduled to sign autographs at the Southwick Mall.  I had gone to a one hour place to get 8X10's printed of the pictures we had taken.  When I got to the mall, there was a huge line as you would expect.  I stood back behind the table where Ali was signing and just took it all in.  There was a very large black man, built like a brick you know what who had just come up to Muhammad's autograph.  Ali said, "Are you a fighter?"  The man said he was.  Ali held up his hand and said, "Let me see what you've got."  The man threw a jab into Ali's hand and Ali said, "That's pretty good, do that again."  The guy threw the jab out there, but before it could hit Ali's hand, Ali, quick as a cat used that same hand for his own jab and slapped the guys face.  It was LOUD!  The crowd roared!  No one knew that Muhammad Ali was still fast.  We all just assumed that because he moves so slow now that he was always just slow these days.  His spokesman was standing next to me and told me, "Oh no, he's still very fast when he wants to be."  No kidding!  He also saw my pictures in my hand then remembered me from the day before and took me up to get them signed.  Ali asked my name, and signed, "To Jeff, love Muhammad Ali 1990."  He didn't just sign "Love," you could actually feel the love he had for everybody there and life in general.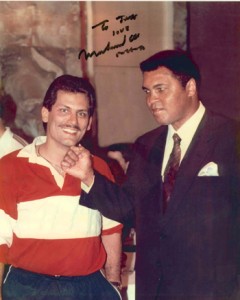 Muhammad Ali, just before I knocked him out
I'll tell you a Muhammad Ali story that has nothing to do with me or that experience.  A friend of mine from high school, Gary Zittle, went away to college and his room mate kept claiming that he lived next door to Muhammad Ali.  Gary didn't really believe him but listened to the guys stories.  One day his room mate said, I'm going home for the weekend, do you want to come home with me and meet Ali, if he's home?  Gary said, "Sure!"  They got to the guys house and the next morning they got up and his friend says, "Let's go meet Ali."   Ali lived in Al Capone's old house in the very southwestern corner of Michigan.  Gary and his friend walk through the hedge into Ali's back yard and there he was, sitting outside with his trainer, some handlers and some other people.
There is a barn in Ali's back yard and they invited Gary and his friend into the barn to watch him train.  In the barn was a ring and all the fixin's you needed to have a first class gym.  Ali was training for an upcoming fight.  They watched as he danced around his sparring partner and threw his lightning fast jabs out there.  They were just wrapping up and Ali, leaning on the ropes sweating, looks at Gary and says, "You wanna go a couple rounds?"  Gary said, "No I don't."   But Ali insisted that he come up and assured him that he wouldn't hit Gary, but wanted Gary to try to hit him.  So Gary gloved up and jumped into the ring.  He couldn't lay a glove on Ali and Muhammad was flicking jabs out to within millimeters  of Gary's face, just smokin' fast.  Suddenly, one of the jabs, catches Gary on the nose and broke his nose.
Ali felt terrible about this accident.  He had his corner man, a doctor, set Gary's nose.  Then he insisted on taking Gary and his friend to dinner.  Ali took them by limo to Chicago and they ate at the top of the Sears building.  What a great story.  It was in our local paper in Grand Blanc with pictures of Gary with his nose bandaged up and two black eyes.  I would gladly have Muhammad Ali break my nose for a story like that.
Over the course of my radio career we were fortunate enough to meet many celebrities and rock stars.  We interviewed hundreds in person, by phone or satellite through out the years.  Ted Nugent was a blast.  He was a guy you could just say, "Hi Ted."  And he would just start talking.  And talking.  He knew what he wanted to tell you and he just took off.  You felt bad interrupting him to actually ask a question.   He had a concert coming up at the old sports arena in Toledo and was on to promote that.  On the same day we had Mary Tyler Moore on the satellite.  He is a big hunter and she is a big animal rights advocate.  She was promoting her new book about her life.  We mentioned to Ted that she would be joining us later.  She had just spent a ton of money to buy a 100 year old lobster from a restaurant, flew it to Maine and had it set free.  Ted said, "Tell Mary for me that lobster is FOOOOD!"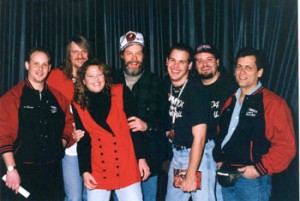 Ted Nugent holding my wife, Shelly
Ted Nugent Interview

[audio:Ted.mp3 | autostart=no | loop=no]
Mary Tyler Moore joined us the same day as Ted Nugent and she talked about her new book and some exiting stuff from her impressive career.  The highlight for me was the story she told about the Dick VanDyke show.  It was the episode where they had a ton of walnuts everywhere.  Rob opened the closet door and Mary was to come sliding down a huge pile of the walnuts, walnuts they had been eating all week filling them full of gas.  Well, Rob opened the door, Mary came sliding down the pile of nuts and the audience roared.  This was lucky for Mary as the laughing crowd completely covered up Mary farting on her way down the hill of walnuts.  You didn't see that story in TV Guide.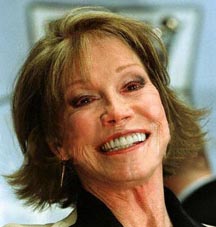 Mary Tyler Moore

[audio:Mary.mp3 | autostart=no | loop=no]
Mark always took the lead on the interview if they were musicians and I took the lead of they were actors or comedians.  Peter C. always told us to, "Lead with your aces!"  Mark new music and I knew TV and comics.  It worked out well.  Here's a great example of why we did it this way.  One day we had Stevie Ray Vaughn on the show.  I had no idea who he was.  I was a Disco Deejay prior to radio.  Mark did a great interview.  I threw in a couple "Wow's" and " That must have been great's," after a couple of his stories.  Stevie Ray died a week or two later.  I love his music NOW.
We had two encounters with Peter Frampton.  The first was an in studio interview when he came to town for a concert and the second was a phone interview for the re-mastering of "Frampton Comes Alive."  Peter was a truly great guy and went above and beyond for our station and our listeners.  He did the studio interview and agreed to attend a picnic afterwards with a handful of listeners chosen in a phone in contest.  The day came that Peter arrived and we did the interview, then had a literal picnic on the front lawn of the "Pickle Palace" that was WXKR at one point.  He posed for pictures with every one individually and spent a lot of one on one time just visiting with everybody.  Later that night, Mark and I introduced him at his concert at the Centennial Quarry.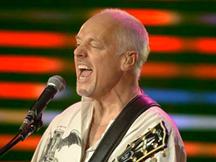 Peter Frampton Interview
[audio:Peter.mp3 | autostart=no | loop=no]
We got a chance to talk to Buddy Epsen within the last year of his life.  I still have that interview.  It was kind of sad, he had trouble hearing us.  We had just gotten his book he was promoting the day of the interview so neither one of us had read it yet.  He had some interesting stories to tell.  One of which was him being the original "Tin Man" in the "Wizard of Oz."  They used and aluminum paint to make him look metallic.  He breathed a lot of that aluminum dust and it gave him instant emphysema and put him right in the hospital.  He had to leave the movie after six weeks of shooting.   Jack Haley took over the part.  Buddy also told us about working with Shirley Temple.  She got a joke book while shooting one of her movies and would memorize jokes and do twenty minutes of standup before they could start shooting.  The cast and crew would gather around and she would rip off one joke after another.  They were corny jokes but they would all laugh.  These stand up sessions would put shooting behind but no one seemed to mind.  What a great story.
One of my favorite people to interview was June Foray.  She was the voice of "Rocky The Squirrel" on the "Rocky and Bullwinkle Cartoons."  She was also, "Nell" and "Natasha" and "Granny," of "Tweetie & Granny" and countless other voices you know the second you hear them.  She would break into these different voices for us and tell us great stories about radio in the early years.  We heard about her days working with Mel Blanc, Daws Butler, Stan Freberg, Chuck Jones and Bill Scott.  All the people who made up the cartoons we all watched as kids.  We talked several times on the air.  In 2002, my brother Bob and I went out to California to pitch "Buffalo Dick's Radio Ranch" as a cartoon to NBC.  While we were out there, I called June and asked if she'd have lunch with us.  She did and we had a lovely time.  We asked her if she would be interested in doing voices on "Buffalo Dick" if we actually sold the show.  She said she would love to and she would do it for "scale" which is the least she can charge under union rules.  She's still working.  I have spoken to her several times in the past few weeks and she had just finished working with Stan Freberg the week before our last chat.  I love June Foray.  She's everything good about Hollywood.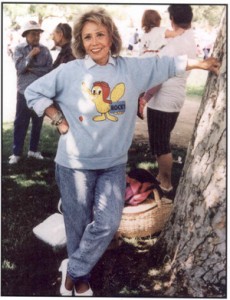 June Foray, "The Voice"
June Foray Interview
[audio:June.mp3 | autostart=no | loop=no]
We had the actor Kevin Pollack in the studio for over an hour.  He had just done "A Few Good Men" with Tom Cruise and Demi Moore.  He was performing at the "Toledo Comedy Club" that weekend.  He was a riot and as nice and accessible as anybody we've talked to.   He was certainly one of my favorites.  He told us a great story about working on "Grumpier Old Men", the sequel to "Grumpy Old Men."  He was already comfortable with Walter Matthau and Jack Lemon.  They added Sophia Loren to this sequel and she was Hollywood royalty.  Everyone was very intimidated and didn't want to do or say anything to offend Ms. Loren.  They were going to do a first read through on the screenplay and for come reason Walter Matthau was in New York and could come to them.  So the studio sent the cast on a charter plane to Walter and New York for the read through.  It was a very quiet flight out of reverence to Ms. Loren.  The got to New York and to an office where they were all seated around a giant conference table for the read through.   Walter was not there yet.  They were waiting for his arrival.  And arrive he did.  Walter had never met Sophia.  The door flies open, Walter blasts into the room, right up to Sophia and he says, "Sophia, nice to meet ya, can't wait to eat ya!"  Needless to say, that broke the ice.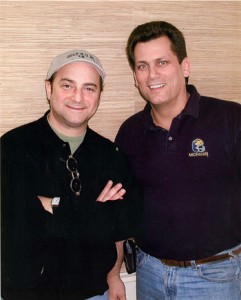 Kevin Pollack and me
Kevin Pollack Interview – Part I
[audio:Kevin-Part1.mp3 | autostart=no | loop=no]
The biggest asshole we ever had on the air was Jackie Mason.  He didn't really belong on a rock station as a guest but he was coming to town and also, the service we used to line up some of our guests really frowned on you saying no to their guests.  So to stay in their good graces, we agreed to have Jackie on the air.  He was very dry and dead pan.  Not in a funny way, rather in an extremely boring way.  We kept nudging him to do some of his material.  Finally he says, "Why should I do my material for you for free?  I get paid to do my material."  That really pissed me off.  We were giving him free publicity for his upcoming show on the number on morning show in the city where he was about to appear.  I reminded him that he was very old and most of our listeners don't remember him and he might want to show them what it is that he does.  Then I said, "Never mind.  Have a great show."  And we hung up on him.  I heard him a few days later do the same thing to Mitch Albom on WJR.  Mitch was more gracious than I was but I could tell he didn't care for the treatment either.
Melissa Etheridge was a fairly new artist when we had the chance to meet her.  She was so new Mark did the lion share of that interview.  But as I said, Mark too the lead on most of the rock stars, I did when interviewing the actors, comics and Playmates!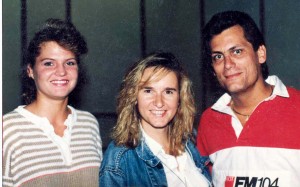 My wife, Shelly, Melissa Etheridge and me
Over the years, we had several Playboy Playmates in the studio.  They were all very pretty but pretty much what you would expect.  Nice to look at but not much to talk to on the air, with one exception.  Lisa Matthews.  At WIOT, Mark and I sat in two different studios.  He was in the main studio playing the music and commercials.  I was in a news booth, full of carts (the eight track type tapes) with all my sound effects  and music beds for the bits.  I had a triple decker cart machine that played the carts when I needed them.  Anyway, my booth was very small.  Lisa Matthews sat in there with me when she came in that day.  She had just jumped out of the shower, her hair was still damp and she smelled wonderful.  She was a prototypical example of "The girl next door."  She was Sweet, bright, funny and unbelievably pretty.  Lisa didn't have that edge that the other playmates had.  I later found out she was from Peoria.  Much later.  After I'd lived in and left Peoria.  She would have been great to have on the "Morning Mix."  She, too, was one of my favorite radio experiences.
Lisa Matthews Playmate of the Month April 1990
Tommy Chong of "Cheech & Chong" fame was also in the studio for quite a while with us and I truly enjoyed his company.  Growing up, I loved Cheech & Chong.  They were filthy theater of the mind comedy.  I think I knew every album word for word.  Tommy was peddling a product called, "Urine Luck."  It was a product to mask pot in your system on a urine test.  What else would expect Tommy Chong to talk about?  It's always a thrill to meet someone that was a big part of your life.  Every musician we interviewed was like that for Mark.  He knew their music note for note.
Captain Roger Bir is a great friend who was a regular listener to the show.  Roger as it turns out was a body guard for Arnold Schwarzenegger.  He did this work for the Govenator whenever he held his "Arnold Classic" in Columbus, OH, an annual event.  Roger set it up on several occasions for me to meet and talk briefly with the king of Caleefornia.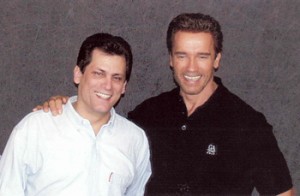 Me and Arnold Schwarzenegger in Columbus
Who knew that many years after seeing Mr. "T" in the lobby of the Century Plaza Hotel in the Buffalo Dick days, he would join us in the studio.  He was a great guy and couldn't have been nicer.  His purpose for being there was to promote the Toughman Contest coming up in Toledo.  He spent a lot of time telling our listeners that he was a momma's boy and they should all respect their mothers.  Strange that that's all I remember from that interview.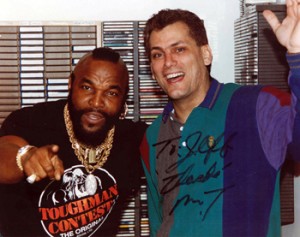 Mr. "T" Loves his Mamma
Brian Gump was a local restaurant owner and good friend of mine.  I had written and sung the jingle for "The T-Town Boys."  Brian would come over to my in home studio once a week to cut a new commercial for his place.  He told me that he was bringing Leon Spinks to "Amigo's", Brian's restaurant, for some promotion he was doing and he invited me to come up and meet him.  Of course I did.  Not the most articulate man I've ever met but a nice enough guy.  He stayed at Brian's house when he was here.  After he left Brian found a pile of chicken wing shrapnel behind his recliner.  I guess it didn't dawn on old Leon to get up off his ass and throw them in the trash.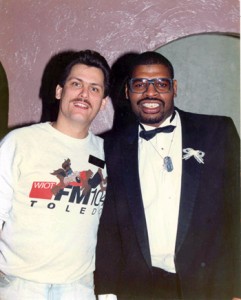 Leon Spinks just before I knocked him out
The WWF was in town and we were really trying to get involved as a station because they were just huge and it just made sense for our male dominated audience.  They told us that we couldn't do the ring announcements because after so many bad DJ's around the country, they've just decided to make a rule that DJ's can't ring announce.  That was their official policy.  I guess someone from the WWF was listening to our show and heard me do Vinnie "Boom Boom" Cappuccino, the sports guy.  It cracked them up and waved their rule and asked me to do it.  So I did.  This was nationally televised from Toledo and I wasn't supposed to get on the tube.  But apparently the tail end of me announcing did and they caught a lot of flack from a bunch of the stations they wouldn't let in the ring.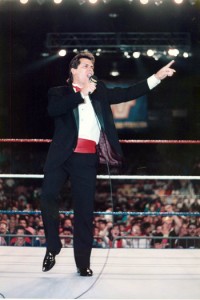 Vinnie "Boom Boom" welcomes the crowd at the WWF
Mark and I were asked if we wanted to introduce George Carlin at the Stranahan Theater.  We said sure!  So the night came and we popped out on stage and gave George a heartfelt welcome.  We were both fans.  Then we hustled off stage and down to our front row seats.  By the way, front row seats are always for the listeners.  The jocks never get seats like that.  So this was a special treat.  I had my camera with me.  I was taking pictures, one, right after the other.  Click Click!  After a few minutes George stops his act.  Comes to the front of the stage where I was, bent over and started screaming at me.  "Are you ever going to run out of fucking film? Do you know how fucking annoying that is?!  I'm up here making faces to punctuate JOKES.  Not so you can have a nice collection of George faces!"  Wow, was that embarrassing.   He continued, "If you take one more fucking picture, I'll stop my fucking show and walk off this fucking stage you prick!"  Wow, it's still embarrassing!  "Further more, you're blinding me with your fucking flash!"  Flash?  Oh, my God, I didn't know that the flash was on.  There was plenty of light from the spot light.  Oh crap!  He ripped me a new one for two or three minutes.   I can't remember ever being so humiliated.  Mark was slouched down in his seat so no one would see that he's with the asshole that George was lighting up.
As we're leaving the theater, Mark was pointing at me saying, "He's the asshole with the camera."  He was loving this moment.  He milked that on the air for years.  It was so stupid on my part.  I had it coming.
That wasn't the last time I'd be reamed by a celebrity.  I went to Lakeland, Florida to cover the Detroit Tiger's spring training.  It was my first time doing this and I was really looking forward to it.  I got to the field an picked up my press pass.  They assume you're not an idiot and KNOW the protocol.  The do's and don'ts.  I didn't.  The first thing I did was ask Bo Jackson for an autograph for my nephew Nicholas.  Bo was sitting in the Kansas City dugout and I walked up with a pen and paper and asked if he'd sign it for Nicholas.  He took it, signed it then threw the paper and the pen on the dugout floor and said, "Man this is bullshit."  I didn't know that reporters don't and aren't supposed to ask for autographs.  The Tigers Public Relations director came up to me and explained that if I did it again they would revoke my press credentials.
The next day the Tigers were playing Cincinnati.  I was down on the field before the game, mostly watching.  I was too intimidated to interrupt these guys.  They were working after all.  Then I saw Johnny Bench sitting in the Cincinnati dugout get his mike put on him and there was a camera guy focusing on him.  He was doing play by play for the Reds and getting ready to shoot a pre-game package.  So I went over and leaned on the dugout to watch.  I took a picture (NO FLASH) and then just watched.  I was a catcher as a kid and Johnny Bench was one of my sports idols.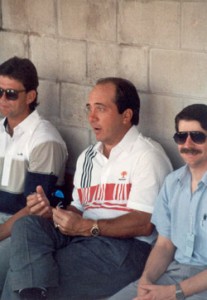 Johnny Bench
Out of nowhere he looks at me and says, in a loud voice, "Do you NEED to be there?"  I said, "No, I'm just hanging out."  Probably not a great answer but I was a little shocked.   Then he starts yelling, "Then get the fuck out of here.  Just go fuck off!"  Wow.  Not only did he say it loud enough for the outfielders to hear.  I was sure the Public Relations guy would have heard that and I'll be kicked out for sure now.  I could feel my face flush with embarrassment.  What do I do now?  What a dick he was.  He didn't have to yell that.  All this was going through my mind as I walked over to the batting cage and tried really hard to get invisible.
I stood there waiting to get thrown out when I felt a hand on my shoulder and a very friendly and familiar voice say, "How ya doin'?  I'm Ernie Harwell."  I turned around and here's the guy I listened to my entire life.  The voice of the Tigers, Mr. Ernie Harwell.   I said, "Hi Mr. Harwell I'm Jeff Lamb from Toledo."  He couldn't have been nicer.  I wasn't sure if he'd heard the whole Johnny Bench tirade but I sure hoped he hadn't.  He went on to talk about how much he liked Toledo and asked me how often I get to a Toledo Mud Hen's game.  It was a great conversation.  It was like talking with a wonderful Uncle.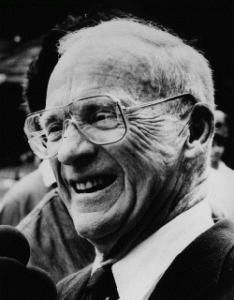 Ernie Harwell
He didn't say a word about the "Johnny Bench thing."  We just talked and visited for what seemed like 15 minutes.  Johnny Bench was now done with the package he was shooting and heading in our direction.  Not to us, but walking past us.  Just as he's about even with us, Ernie says, "Hey Johnny, I'd like you to meet a good friend of mine.  This is Jeff Lamb from Toledo."  Now Johnny looked a little embarrassed.  He stuck out his hand and said, "Hi.  Nice to meet you."  Then he just kept walking.  Of course Ernie had seen the "Thing."  This was his way of defusing it.  He made me feel better and I think gave Johnny and uncomfortable moment.  To this day, Ernie Harwell is the classiest man I've ever met.  I wasn't his "Good friend," but Johnny didn't know that.  I will say that Ernie makes everybody feel like his good friend.
Later I was sitting alone eating lunch in the press lunch room and Ernie came in.  All the reporters called out, "Hi Ernie," and waved.  Ernie smiled and waved back and came up to me and said, "May I join you Jeff?"  He remembered my name and he picked me to sit with.  We talked some more about baseball, radio, and nothing at all.  When he got up, he wrote his home phone number down for me, in case I ever needed to do an interview about baseball.  I had a new hero.  And for the record, Johnny Bench is an ass.
In 1993, while at WXKR, Mark and I went to the Rock & Roll Hall Of Fame induction ceremonies in Los Angeles.  They were in the ballroom of some big hotel out there, I don't remember which.  We popped over in the afternoon to see the lay of the land.  When we walked into the ballroom, Eric Clapton was standing with Bonnie Raitt just talking.  They were the only ones in there.  So we wandered up and visited for a few minutes.   Both were very nice.
When we got there for the actual ceremonies, we were instructed that all the stars would be in the lower level "Pit" in the center of the room in front of the stage.  We, being DJ's and other non-famous people were to stay along the upper area.  Do NOT go into the pit.  I thought to myself, when am I ever going to get this close to this many stars?  So I grabbed my souvenir program and headed into the pit.  Mark didn't want to take the risk.  That was Mark.  Great guy but always followed rules (he's still working today.  Hmmm is there a lesson there?).
The first people I see are Patrick Swayze and Brooke Shields.  I walked up and said, "Could I please get an autograph Patrick?"  He said, "Wrong guy asshole."  It turns out it was David Keith.  Okay, let's forget the autographs and just mingle.  This was literally a who's who of music, TV and movies.  Some of the stars were seated, some standing around talking to a famous friend.  I saw Bruce Springsteen sitting with paper and pen going over his speech.  He was inducting someone that night.  I walked up and patted him on the back and said, "Hey good luck tonight."  He looked over his shoulder, a little confused and said, "Thanks.  Thanks a lot."  I was amazed and how solid his back was.  It was like patting a brick wall wearing a suit.
I turned around and bumped nose to nose in to Michael Douglas.  This was so cool!  Then I looked 5 feet away and there was an odd grouping.  Cher was sitting with Pia Zadora and Jason Priestly.  Hmmm.  But Cher looked tiny and had skin like porcelain.  Pale, smooth and much younger than her age.  Billy Crystal was inducting his uncle Milt Gabler who was somebody important to the evolution of music.  You'll have to ask Mark.  Paul Shaffer was there, the remaining Doors, Eddy Veder sang the Jim Morrison lead with them on stage later.  Creedence Clearwater Revival was also being inducted that night.  John Fogerty went up to perform Creedence songs with an all-star band of Clapton, Springsteen and a bunch of others while his old band sat and watched.   He would not let his band up on stage with him. Apparently the feud isn't over.  I recall making a list of everybody I saw up close and personal but I have no idea where it is now.  Cream, Etta James, Frankie Lymon & the Teenagers, Ruth Brown, Sly and the Family Stone and Van Morrison were also installed with The Doors and Creedence that year.  Dick Clark was installed in a Non-Performer category.
In 1994, the Rock And Roll Hall Of Fame inductions were in New York.  Mark and I got to go to that too.  They were held at the Waldorf Astoria Ballroom.  Our credentials didn't get us in the ballroom and I was kind of bummed at first.  We sat in the press room.  The cool thing turned out to be that after being inducted on stage, all these stars went then to the press room for questions.  Mark and I grabbed a front row seat in the press room.  In front of us was about a 3 foot high stage.  This was going to be great.  Now I've got a reason to talk to them instead of staring at them like I did in Los Angeles.   I had to hit the men's room before the party started so I headed out the door of the press room to cross a hallway to the bathroom.  The bathroom was across the hall and to the left of two double doors.  As I got halfway to the john, the doors banged open right in front of me and it was Bruce Springsteen and his wife with Paul McCartney and Linda arm in arm four across.  All I could do was think WOW!!  Then dozens of camera flashes were going off.  They stood and posed for about 10 seconds and then hurried in to the ballroom.  What a great start to the night!  I went in to men's room and was standing at the urinal and Jeff Beck walked up to the one next to me.  In case you're wondering…I can't help you ladies, I didn't look.  Now if Tommy Lee were next to me I'd have HAD to look.
Paul McCartney was there because John Lennon was being inducted.  He and Linda came in the press room after with Yoko Ono, Sean and Julian Lennon.  After that Elton John came in with his date Rue Paul.  Elton was now a hall of famer.  Others included Rod Stewart, The Band, The Grateful Dead, The Animals, Duane Eddy and Ziggy Marley there for his father.  Mark struck up a nice conversation with Bruce Hornsby before everything got under way.  They talked about Bruce's twins that had just been born and he was more than willing to go on about his kids.  He was a real nice guy and I'll bet a great dad.   When it was time to go, we were on the wrong side of the room.  Kurt Loder was doing a stand up piece for MTV or some damned thing and he kept screwing it up.  Hey, we all do that, but we couldn't leave until he got it right.  He was between us and the door out.  He could have just said, "I can't read, write or adlib, would you like to get through here tonight?"  But we waited and he finally got through it and we left.
The next day the picture of The Springsteens and the McCartneys arm and arm was on the front page of the New York Times and my shoulder was in the picture.  So yeah, I've been in the New York Times.  Smell me.
About 6 months later, Steven Wright was in town and they asked the station to send someone to introduce him.  They asked me and I said sure!  Not only did I really like Steven Wright's comedy.  I was able to get a couple more backstage passes and tickets to invite my sister and her husband, Scott.  It would be a chance to do something nice for them and impress them with my cool job all at the same time.  We were standing backstage waiting for Steven to come out of his dressing room.  There is a booth next to the stage where the stage manager sits.  He's an old guy with a hat.  You know how I love old guys with a hat.  He comes out and says, "Say, aren't you the guy that George Carlin really tore into?"  I said, "Yep, sure was."  Then I tried to change the subject.  He went on…."I've seen a lot of things working here.  That was really stupid on your part."  Again, I said, "Yep, it sure was."  This isn't how you impress your sister and her hubby.  He wasn't done.  "Yeah, I've seen a lot of things.  But MAN that was really stupid.  He really made a fool out of you.  I hope you learned your lesson young man."  I never liked old guys in hats, but I never wanted to punch one before.  I'm hearing Archie Bunker in my head, "Shut up YOU!"  Finally he crawled back in his booth and left us alone.  I had to explain what he was talking about.
A year had passed since the George Carlin "incident" now and he was coming back to town.  The powers that be thought it would be funny to send me to introduce him again.  I'm back stage milling around and his manager comes up and says, "Are you from the station?"  I said, "Yes I am."  He asked if I wanted to meet George before the show.  I said why not?  So he's leading me up some steep stairs to the meet and greet where George is.  And I was noticing signs everywhere that said "NO PHOTOGRAPY!"  I said, "What's up with all the signs?"  I knew full well.  I just wanted to hear it.   He went on to tell me that some asshole had been here last year in the front row taking all these flash pictures of George and it really set him off.  He banned ALL cameras at his shows after that.  We're halfway up the stairs and I said, "You're gonna laugh!"  And I told him that that asshole was me.  He turned around slowly and said, "That was YOU!?   Whatever you do, don't tell George!"  When he introduced me to George, I think he was actually more nervous than I that he might actually recognize me.  Oh the gift that keeps on giving.
[Read more of these stories in Jeff's book, "I Used To Be A DJ" Available NOW!!]